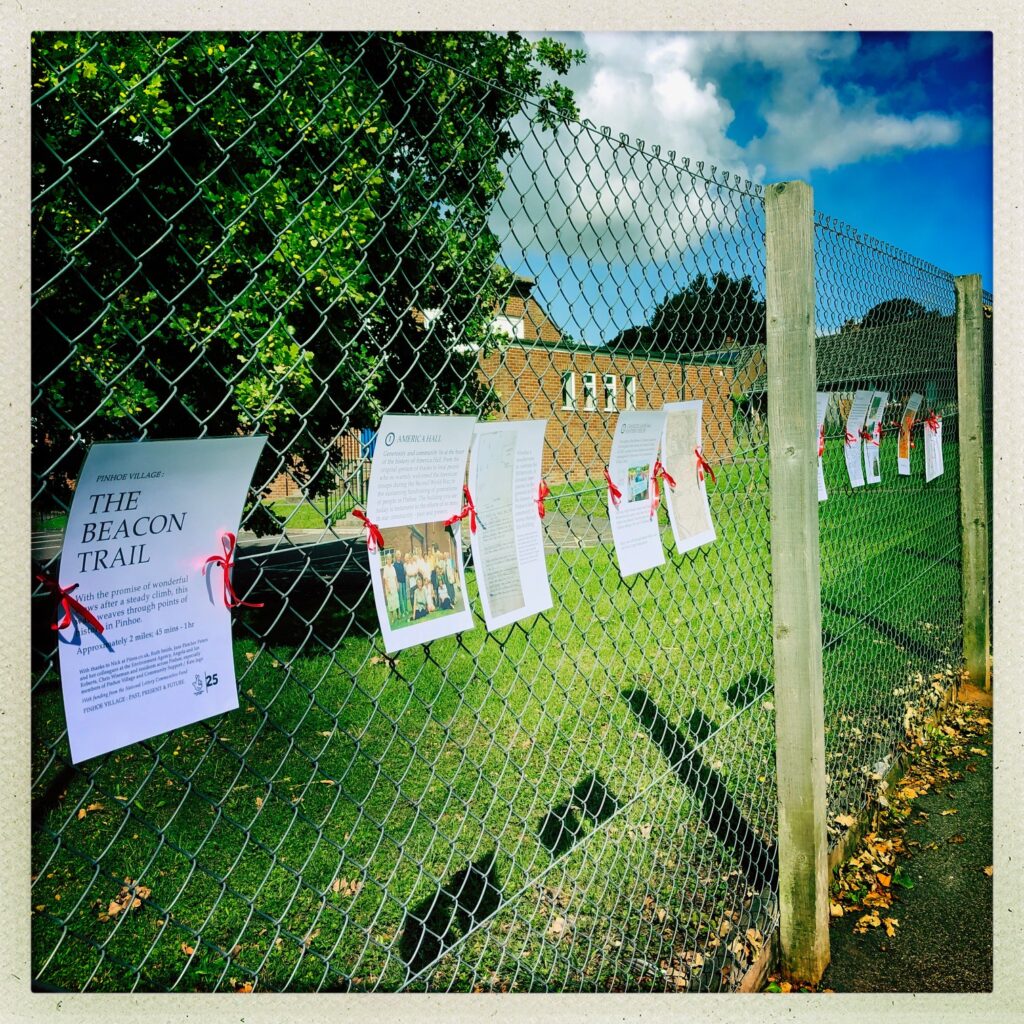 With the promise of wonderful views after a steady climb, this walk weaves through points of history in Pinhoe. Approximately 2 miles; 45 mins – 1 hr
1. AMERICA HALL – START HERE!
Generosity and community lie at the heart of the history of America Hall. From the original gesture of thanks to local people who so warmly welcomed the American troops during the Second World War, to the sustaining fundraising of generations of people in Pinhoe.
The building you see today is testament to the efforts of so many in our community – past and present. Whether a weathervane to celebrate the Millennium, or donated trees planted in the grounds in 1976, the history of Pinhoe's local community is woven through this building.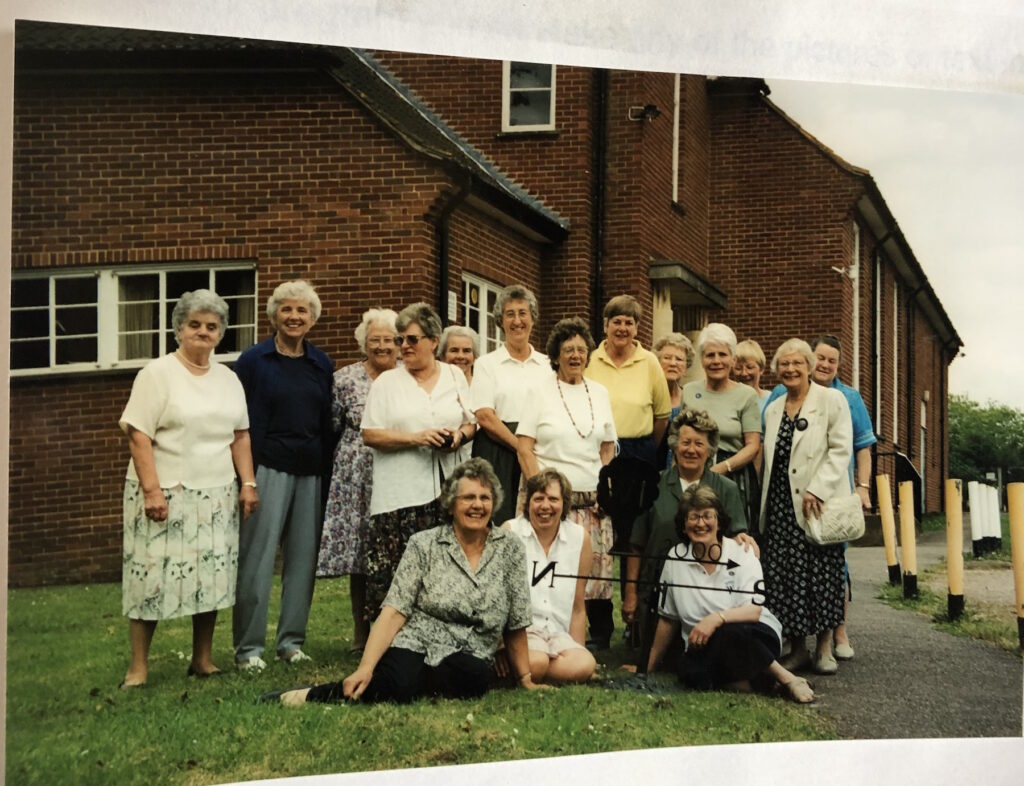 2. CHANCEL LANE INTO EASTERN FIELDS
Walking along De la Rue Way into Chancel Lane, turn right at the bottom of Chancel Lane into the footpath which leads into Eastern Fields. In 2016, a group of local residents successfully campaigned for this area to be protected as a Village Green
This map (below) reveals a time when Pinhoe's brickworks and quarry were busy but its train station was disused. Note the grain silo & railway sidings at the top of Exhibition Way.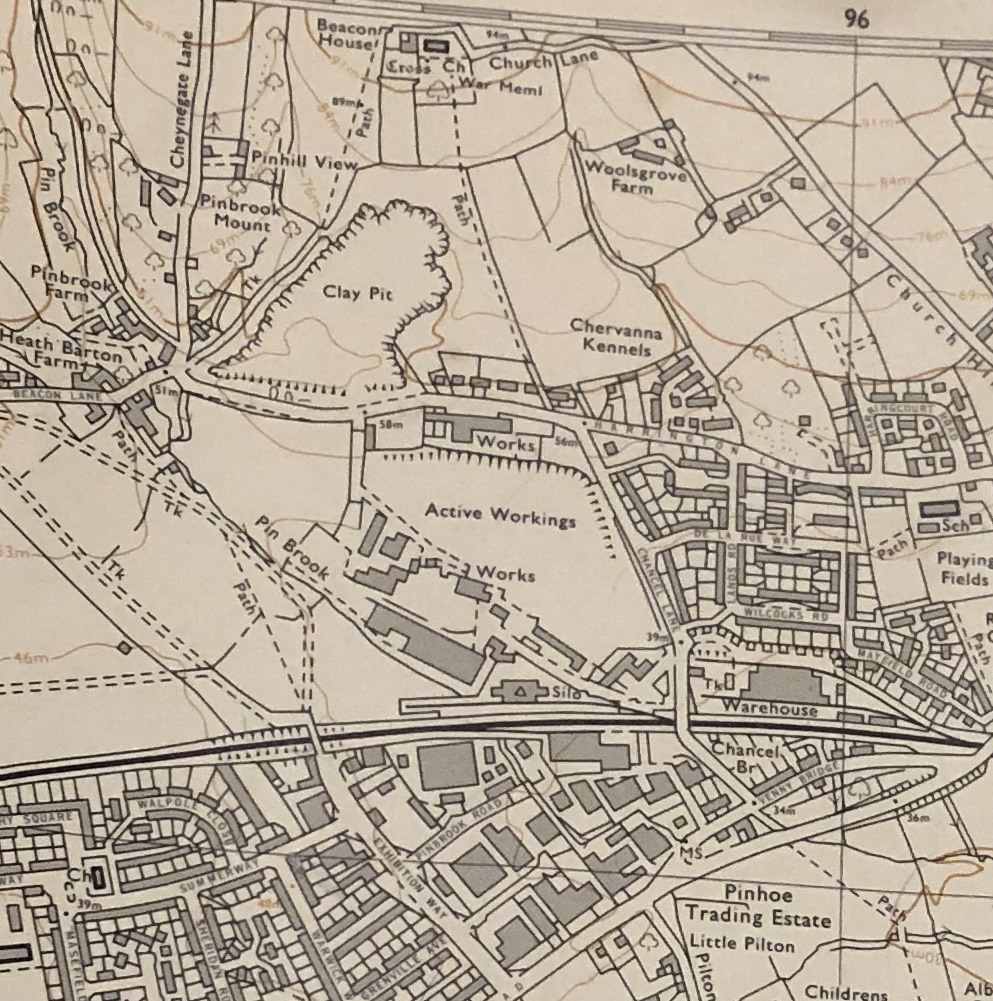 Enjoy your walk through Eastern Fields, once the Devon County show ground!
3. PINBROOK HOUSE
Walking down from Easter Fields, cross Pin Brook to find this imposing Grade II* listed building at the intersection of Beacon, Cheynegate and Harrington Lanes. Look for the wooden shield above the front door, carved with a Coat of Arms and dated 1679.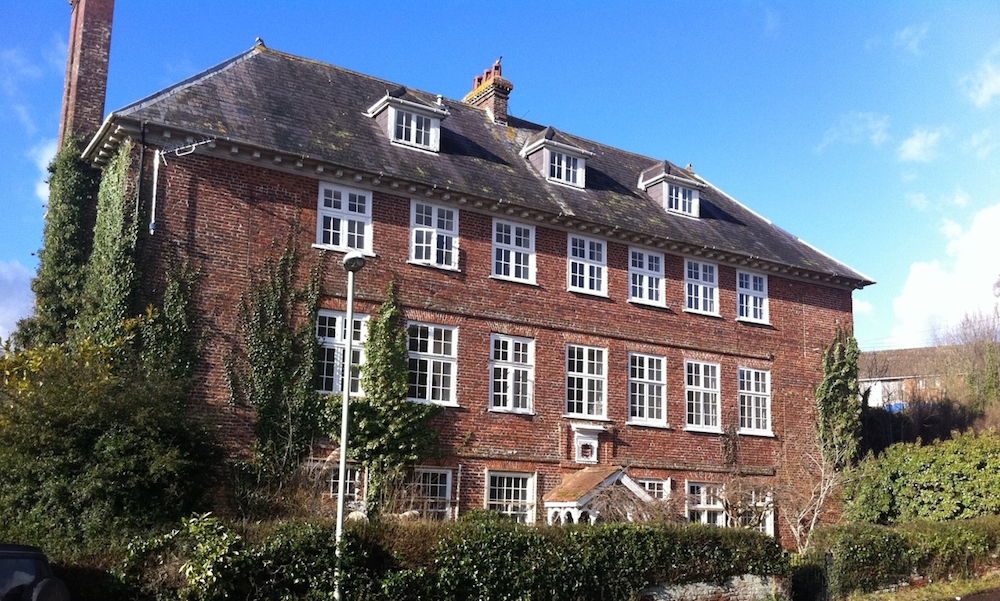 With a varied history, including hosting a garrison during the Napoleonic wars (1803-15) Pinbrook House marks the furthermost edge of Pinhoe's electoral ward. But, as with all lived experience of places, this boundary is blurred by history connecting Beacon Heath to the site of Pinhoe's own protective beacon…
The walk up the steep footpath takes you along the edge of the quarry development – a wildlife trail with trees full of birds and particularly beautiful in spring with all the bulbs planted here >
4. BEACON VIEW
With stunning views over the River Exe and beyond to the sea, the peaceful wildflower field at the top of this footpath holds secrets of violent history and maritime strategy. The Saxon battle of Pinhoe was fought here in 1001 CE and the furthermost top of the field was the site of one of Devon's vital Fire Beacons.
In 2001, to mark the one thousand year anniversary, Pinhoe Church Council with the direction of Heather Sommerwill and the flower festival, staged a brilliant re-enactment of the Battle of Pinhoe!
Enjoy your stroll back down the hill, circling the quarry site to the sound of birds and the hush of trees along one of Pinhoe's treasured footpaths.