Pinhoe is lucky to have a rich history of local people working to support their community
COMMUNITY SUPPORT
Throughout the coronavirus pandemic, Pinhoe Village coordinated the Community Support mutual aid effort. Whether delivering prescriptions or shopping, weekly afternoon teas, baking, creativity and craft packs, volunteers can be contacted on the Community Helpline: 07387 614896. This is a confidential, free service. To volunteer please contact: mail@portfoliofive.co.uk
AMERICA HALL
Pinhoe's Community Centre was built with funds donated by the families and friends of American servicemen who were stationed in our village during the Second World War. Opened in 1952, it provides facilities for a wide range of local businesses, community groups and religious organisations. Click here for their diary of events
CLYST CARING FRIENDS
Based at Pinhoe and Broadclyst Medical Practice, this local charity is a voluntary organisation supporting elderly people. Their purpose-built day centre in Broadclyst runs 3 sessions each week and is managed by qualified staff; volunteers run their charity shop, behind the Post Office in Broadclyst. Weekly coffee mornings are held each Monday at 9.30am in the Heart of Oak on Main Road. Click here to visit their website
"Founded in 1986, Clyst Caring Friends began as a transport service when Dr Walker of Pinhoe Surgery realised there was a need locally to help patients get to and from their surgery appointments"
PINHOE COMMUNITY ASSOCIATION (PCA)
This longstanding local charity was established in 1972. Membership has declined and the PCA team have been unable to progress with meetings for several years: PCA Chair: Susan Salter; PCA Treasurer Ruth Smith
PINHOE COMMUNITY HUB
A new community centre is planned for Station Road Playing Fields, alongside Pinhoe Station. Exeter City Council granted planning permission in 2020, but the estimated £2m costs are yet to be covered, so the build schedule has been pushed back from 2021/22 with no news on a confirmed date for construction. The Hub Team continue to run local fundraising events including quizzes, fairs and pig racing evenings. More detailed information here
PINHOE PRESS
This not-for-profit community magazine publishes news including the church diary, information from local groups and clubs, plus updates from local councillors and community organisations. The publishing team are looking for new sponsorship and local people to help with delivery as Pinhoe continues to expand.
PINHOE VILLAGE
The Pinhoe Village group was founded in 2019 to collect and celebrate local history. Monthly meetings gathered a collection of maps, documents and photographs which grew into an exhibition and began both a community archive and an annual fundraising calendar.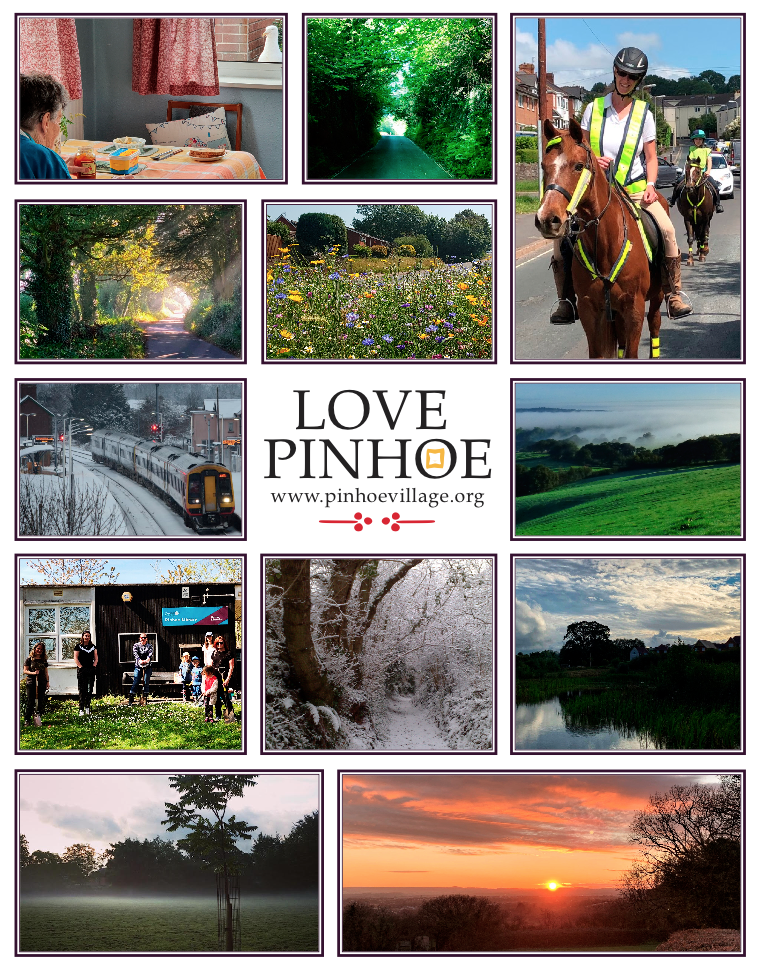 Members of Pinhoe Village formed Pinhoe Community Support with the Community Helpline in the early days of the covid pandemic. After more than two years of supporting our community, delivering over 2000 plates of afternoon teas, hundreds of miles walked and cycled delivering prescriptions, and countless shopping lists delivered by dedicated volunteers, the Community Helpline continues to provide a range of support to local residents.
The Little House, funded by local donations and refurbished by volunteers, began as a community library / pantry / plant-share during lockdown. It's still at the top of Station Road and raises funds for the Helpline.
Pinhoe Village website continues to publish the range of support activities, local archive and events facilitated by a small team of volunteers – to join please contact: mail@portfoliofive.co.uk